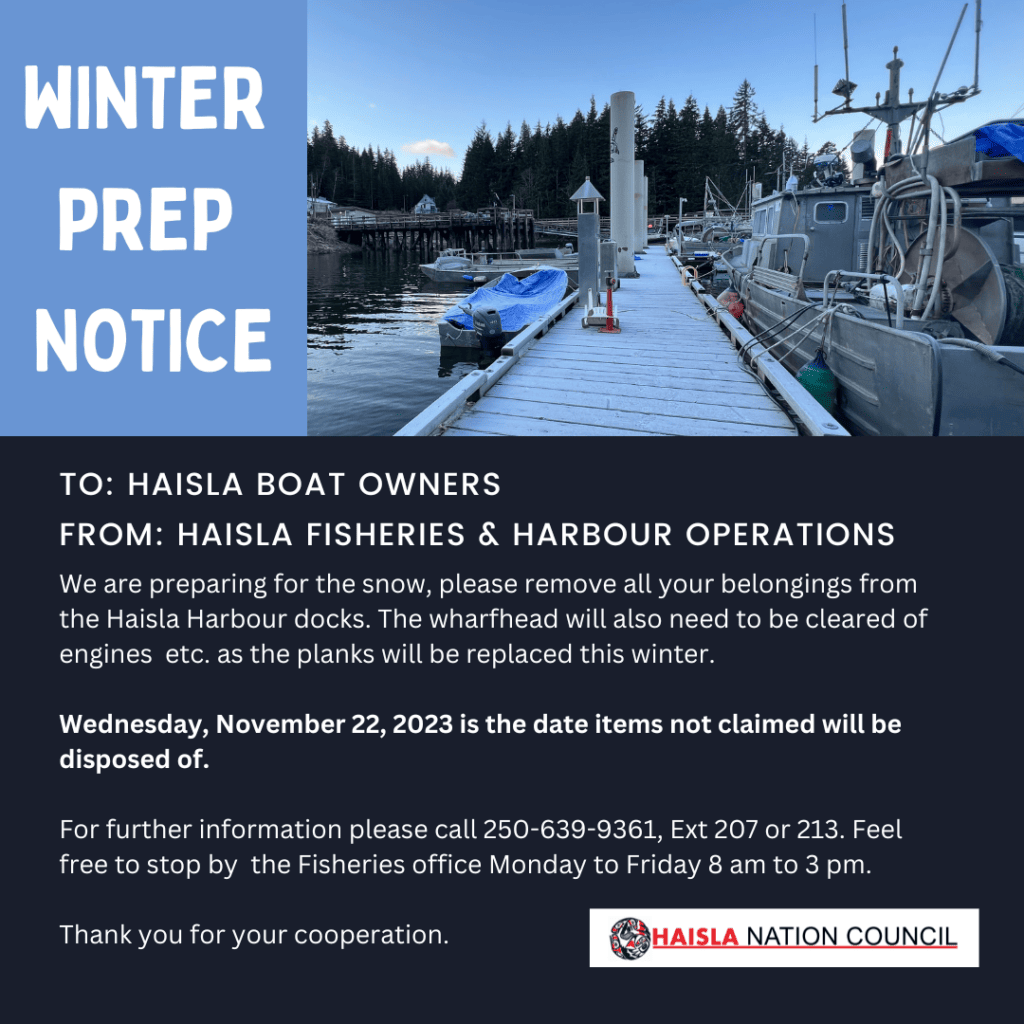 Haisla Membership:
Are you thinking of starting a business? Maybe you are at the development stage, or are looking to shape your business plans/skills. Spiritlink's Indigenous Business FUNdamentals program will be offered to Haisla members in the near future and will be led by Kristin Kozuback.
The Business FUNdamentals topics are grouped into five main themes:
Introduction to Entrepreneurship
Marketing Magic
Systems for Success / Business Operations
Developing Financial Fitness and Realistic Budgets
Pitches, Plans & Proposals
All courses are free, offered on-line, with 12 spots open for Haisla members.
To better understand what dates would work best for the majority of interested individuals there is a survey for you to complete.
To view additional information about this program and to complete the survey please use the QR code provided in the image attached to this post or click on the following link |Indigenous Business FUNdamentals Program|.
Have questions or comments? Please reach out to Kim Robinson at krobinson@haisla.ca or contact Kristin directly at spiritlinking@gmail.com.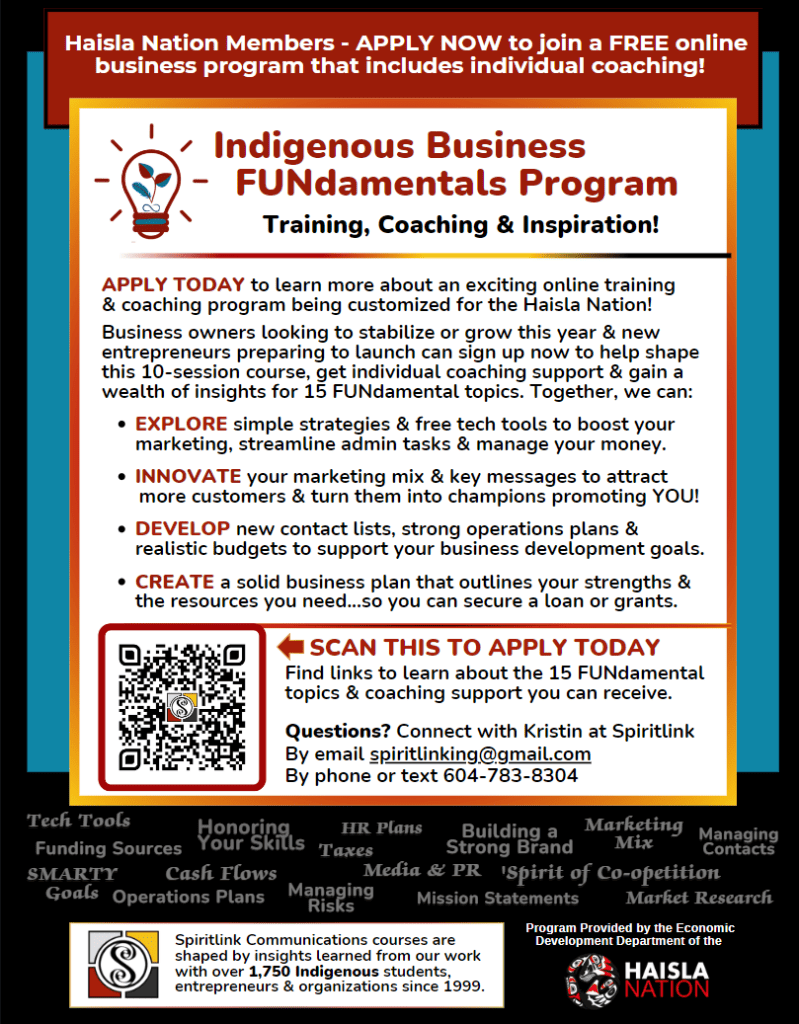 Haisla Nation Council is happy to announce they will be hosting Christmas dinners for membership for 2023. Venue bookings and event planning have been going on behind the scenes this past year to bring Haisla Membership together this holiday season. Please make note on your calendars. Additional details will follow in the weeks to come. Take care and be safe everyone.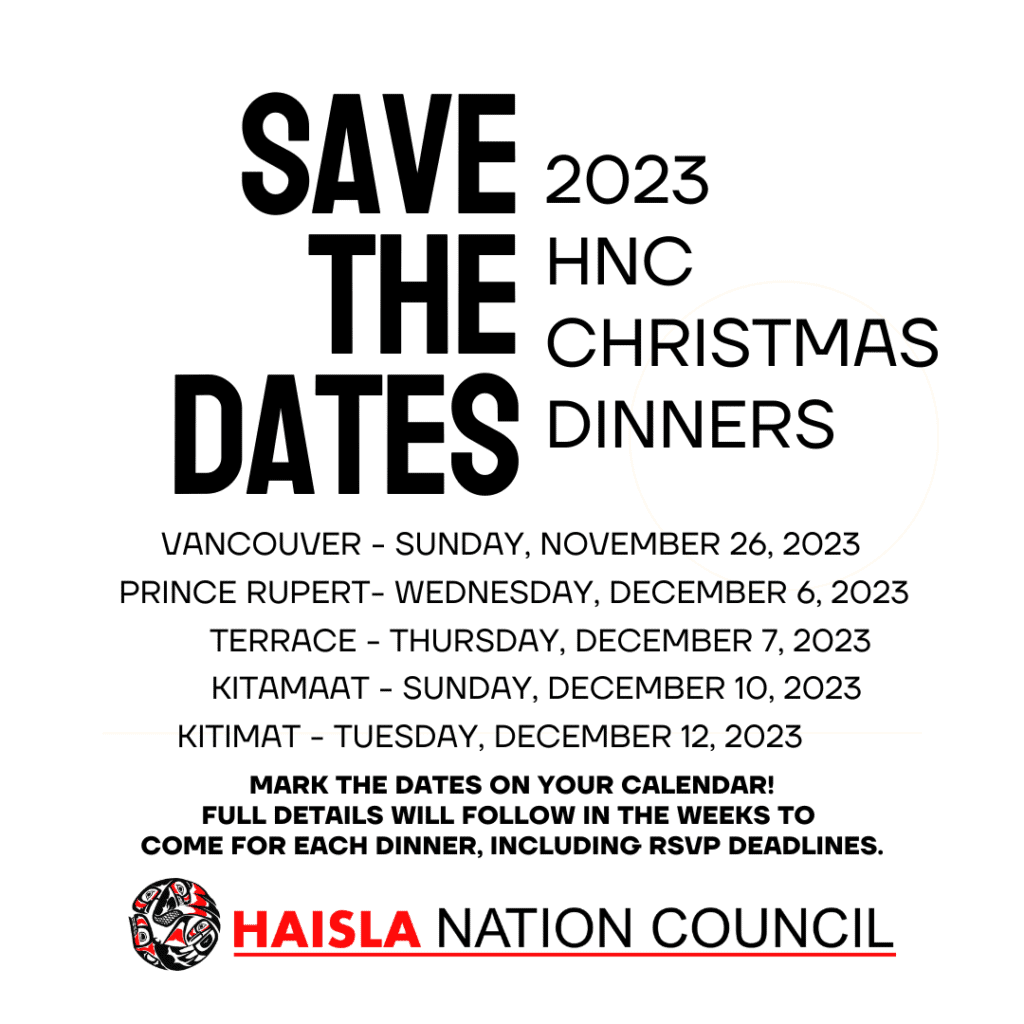 Haisla members share their thoughts on the Cedar LNG project's anticipated benefits in a recent interview. Click here to view the video: Global News_Cedar LNG_Haisla Nation
From:
Kailee Gardiner, Deputy CAO – Development
Teena Grant, Deputy CAO – Administration
We've got a new look!
We are thrilled to announce the launch of our new website! After months of hard work and dedication, our Communications Coordinator and Spruce Tree Media have created a user-friendly and visually appealing website. It offers an easy and efficient way to learn about the programs and services offered by our organization.
Spruce Tree Media is a multi-service marketing agency located in Kitimat, BC, and offers services uniquely tailored to northwestern BC. The Spruce Tree team includes Devin Wall and Travis Wilson.
What's new?
We have revamped our homepage to provide you with quick access to all the information you need whether it's learning more about our organization or viewing what programs and services we offer our membership.
Additionally, our new website is fully responsive, which means you can enjoy the same great experience on any device, be it a desktop, laptop, or smartphone.
One of the standout features of our new website is the CALENDAR where all upcoming Haisla Nation Council events will be shared.
In the Staff Directory you can now easily search by name any HNC employee for their contact details. Another option offered is to search by department.
View documents pertaining to the Gúkʷelut Trust, Comprehensive Community Plan, Haisla Membership Law, and the Custom Election Code.
You can now sign up to receive our monthly newsletter, the dútiɫ, and it will automatically be emailed to you at the email address you provide.
Recent NEWS can now be found at the bottom of the HOME page or under its own tab NEWS. Any NEWS item that is uploaded is also shared via an email every Monday and Friday at noon.
Have a concern? Following the steps outlined on the CONTACT US page membership can submit electronically using an on-line form.
Our organization continues to look at new ways of communicating to membership. In the months ahead we will be looking at options to increase our communications reach, which may include a future survey seeking your input.
We invite you to explore our new website and discover all it has to offer.
On October 24-25, 2023 Haisla Nation Council will host their 2023 Annual General Meeting to share with Haisla membership the organization's 2022 Highlights, 2023 Goals and 2023 Projects. Please check out our calendar for meeting details. For those who wish to participate virtually a live Facebook feed will be delivered via the membership Facebook group page. To view a message from elected Chief Councillor Crystal Smith and a summary of the organization's 2022 Highlights please click on the following link: |2023 Annual Report_2022 Highlights|
To view the full update, please click |HERE| . 
Thank you.
The Northern First Nations Alliance (NFNA) was formed back in 2020 and is made up of representatives of neighboring Nations that include the Haisla, Gitxaala, Gitanyow, Kitselas, Kitsumkalum and Nisga'a Nation. Health and wellness is one of four areas NFNA has focused on and last week positive news was received when Premier David Eby announced his support for one of the Alliance's proposals.
To read more on this please see Northern Beat's news article that can be found |HERE|
In September 2021 BDO was engaged by the Haisla Nation to review the Haisla's People Trust Framework and to continue the work that Deloitte (2020) had begun in creating a trust governance framework for Haisla's Own Source Revenue.  In order to complete this scope of work, community consultation and professional resources, such as legal and financial expertise, were identified as pivotal to the projects' success.  A key deliverable of this project was ensuring that all Haisla Members understood the process involved in creating a trust agreement.  As the Trust working group nears completion of the trust agreement, we will be engaging in another community information/consultation process.  In advance of the schedule community consultation sessions, we wanted to share a membership information package (below) that highlights key topics that will be covered during these sessions.
To view please click here |Membership Information Package|
To view the upcoming dates please click here |Membership Engagement Sessions|
From the desk of Deanna Gray, Work Placement Coordinator:

Information sharing on upcoming job search and resume clinic in Richmond, BC, on September 13, 2023 offered by Coastal GasLink.
Note: this information is an update from last week's post as the room location has changed to the Capilano-Birkenhead Room.
Please see poster below for full details. Questions regarding this clinic can be directed to Deanna Gray at dgray@haisla.ca.
Deanna will also be accepting resumes for the upcoming Woodfibre LNG Project in Squamish, BC. At this time there is no other information regarding the project but Deanna will accept resumes from those interested and pass the resumes on to Ledcor.